New European Eco Design Directive for energy consuming products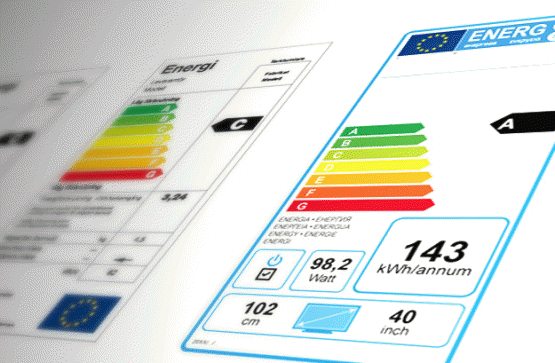 The aim of the new European Eco Design Directive is to incorporate environmental issues into the design of a product in order to improve its environmental performance throughout its life cycle. Air conditioners are classified as Energy Related Products (ERPs) because they have an impact on energy consumption during operation. Therefore, a new set of energy efficiency evaluation rules has been defined (Lot 10 & Lot 11) and will be incorporated into the new way of labeling energy efficiency. The fundamental change from the current situation is that the focus of the new evaluation method is on seasonal performance.
In addition, poorly-rated products will not be able to penetrate the market from January 2013, while stricter limits will apply from January 1, 2014. Energy efficiency scores, combined with unit noise levels, expressed in decibel, should be clearly presented in the new energy label to enable buyers to choose products with better environmental performance.
New energy labeling for air conditioners
According to the new label, the energy efficiency of air conditioning systems will be calculated based on seasonal performance.
Climate zones for calculating heating (seasonal efficiency, SCOP): it was not possible to create a single temperature profile for the whole of Europe; therefore the EU was divided into three different climate zones. In this way, the calculation of energy efficiency based on the actual ambient temperatures per region is ensured.
Warmer zone: annual temperatures in Athens
Average zone: annual temperatures in Strasbourg
Colder zone: annual temperatures in Helsinki
New energy labeling
Energy labeling was established with the introduction of European legislation in 1995 with the aim of providing consumers with the opportunity to take into account the "Energy" parameter when choosing a product. The original energy label used a scale to categorize products according to the energy consumed for their operation. This scale was starting with A (to characterize the most energy efficient class) and ended with G (to characterize the least energy efficient class).
In 2003, European legislation introduced two new categories above A in order to meet market needs for more energy-efficient products, but also to motivate manufacturers to develop products whose energy efficiency would be even higher than existing ones. So, the categories A + and A ++ were created. However, as technological innovations have led to the production of even more energy-efficient products, energy consumption labeling in its current form could not provide clear and transparent information. Thus, the new framework was approved by the European Parliament in 2010.
Toshiba applies all new methods for calculating the energy-efficiency of our products, in accordance with the new eco design directive and the requirements of Lot10 and Lot11.
For more Technical Information on all Toshiba products regarding the new energy label, visit the website: http://ecodesign.toshiba-airconditioning.eu