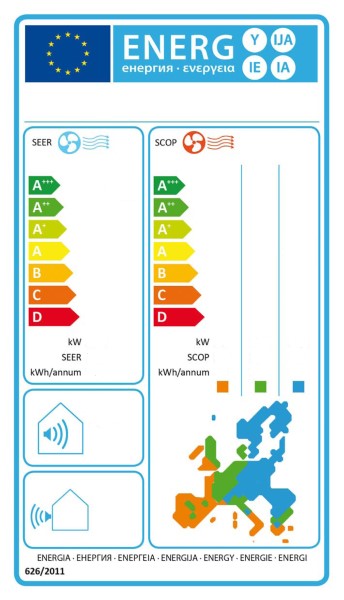 To improve its environmental responsibility, Toshiba Air Conditioning offers products that
meet the following European standards:
EN 14511
This directive determines the requirements and
performance measurements of air conditioners and heat pumps.
EN 14825
This directive determines the methodology for the calculation of seasonal performance for space heating and cooling of air conditioners and heat pumps, with electrical driven compressors.
EN 16147
This directive involves heat pumps with electrical driven compressors and determines the requirements for marking domestic hot water units.
517/2014 F-gas
The Regulation aims to progressively abolish the use of hydrocarbons in future heating and cooling systems.
EUROVENT Certification
Eurovent is an independent European organization with the strictest requirements globally, which verifies that the technical features and performance of air conditioning products follow all European guidelines.
All Toshiba residential products are certified by Eurovent program. This is a guarantee for customers and users that our products will operate in accordance with the design specifications and that their published technical characteristics, performance and Energy Ratings are true.

Our commitment to the future, starting from today.
It is imperative for us to play an active role in protecting our planet; it is something we defend daily. At Toshiba Air Conditioning, we believe we can make a difference. We are committed to advancing research and developing super-energy-efficient technologies.

This commitment is in line with the European Union's climate and energy objectives for 2030.
27% Improvement in Energy Efficiency
-40% Greenhouse gas emissions
27% Share of Renewable Energy
59% Reduction in total volume of CO2 emissions from 1990 to 2015
45% Reduction in total volume of waste generated from 2000 to 2015
89% Reduction in total volume of chemical emissions from 2000 to 2015
Worldwide Activities for Conserving Biodiversity 
Concurrently Toshiba Group is also conducting group-wide environmental activities based on the recognition of the importance of maintaining and expanding environments for conserving biodiversity.
62 BIOTOPES created at production and business sites worldwide from 2012 to 2015
100 RARE SPECIES  inhabit Toshiba Group's
production and business sites worldwide
*Source: TOSHIBA CORPORATION Environmental Report 2016